Implement a Queue and Crowd Management System While Maintaining Proper Social Distancing
Queue management posts to keep patrons separated while waiting in line and other helpful social distancing products for crowds.
With the global spread of COVID-19, the way people move and how crowds interact is constantly changing, and the need to adapt is important.
It is vital that retail outlets, pharmacies, hospitality venues, and transportation hubs help to fight the pandemic by encouraging good social distancing techniques, and educate staff and customers by utilizing simple crowd control solutions.
Specializing in directional devices since 1983, Tamis knows and works with all suppliers of all options. That means we work with you for the best solution with the best products at the best price to meet your specific constraints. Look at the many options we have to help you!
Call to discuss specific requirements (800) 448-2647.
Custom Chair Strap Covers
Block out seats with custom, pure vinyl chair strap. Customize with a logo for your team, sponsorship, social distancing, or a special advertising message. These fit onto almost all chair models with a clasp to tighten or loosen the strap. Custom sizes are also available.
Social Distancing Post
Ensure that customers are reminded about and adhere to social distancing rules when queuing or moving through areas. Eye-catching graphics can be added to the posts and are a great customizable communication tool to remind customers that they must keep their distance.
Steel & Plastic Barricades
Crowd control barricades, which clearly establish line space, or block off restricted areas, are ideal for events at which larger crowds gather.
They act as portable railings to direct visitors and serve as a physical and psychological barrier that deters crowds from entering restricted areas. Hot-dip galvanization ensures that barriers will remain rust-free in outdoor settings.
Tensabarrier® Post Top Labels
Customize any of our Tensabarrier® posts with a custom post top label reminding customers of key tips to fight the spread of Coronavirus.
Examples of this: wash hands frequently, catch it bin it kill it, avoid touching eyes nose mouth, keep 2 meters apart from the person in front of you.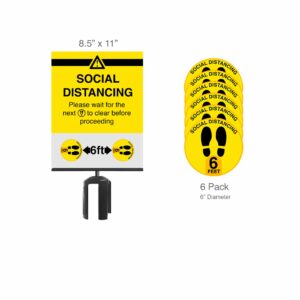 Social Distance Floor and Sign Marker Bundle
Show your customers where to stand to maintain distance.
Our social distancing stanchion sign and floor decal bundle include a 6 pack of floor decals, an 11" x 14" paper sign holder and a sign explaining how the floor decals work.
Sign Stand
The Tamis 6' Sign Stand raises your sign above the crowd for visibility from a distance. The sign stand has a two-piece construction which allows for compact packaging and low freight costs. This product can be supplied with or without a center-mounted retracting belt cassette allowing the Sign Stand to be used as part of a queue system. Call a product specialist to discuss your options, (800) 448-2647.
Tensabarrier® Post Top Signage
Simply slot on top of your Tensabarrier post to communicate important safety messages with your customers without human contact.
Ideal for advising customers to stand 2 meters apart from the person in front of them.
Hand Sanitizer Kits
Save space with sanitizers that attach to your existing stanchions or mount to walls.
We have three options for you to choose from. Let us help you with the best configuration. Volume discounts are available.
Social Distancing Stanchion Base Covers
Still using floor decals for social distancing? Try a more effective approach that takes advantage of your next inline posts. People do look down when in line, and this is the perfect opportunity and place to display your message.
Acrylic Sneeze Guards
Maintain social distance and physical separation while protecting from splashes and sprays with clear plastic barriers. Manufactured in the United States with quick turn-around time for small and large quantities.
Safe Distance Floor Markers
A solution that can quickly be deployed around entrances and exits, general areas, and within queues to help customers identify a safe distance to stand when queuing or walking through your environment.
PPE Enhancements
Increase the correct usage of waste receptacles for PPE with decals and signage.  Clear, visible graphics eliminate user confusion, promoting confident waste, and recycling disposal.
Customizable Face Masks
Add your company logo to our reusable face masks. One size fits most for a comfortable, soft fit.
Throughout this difficult pandemic, Tamis will continue to provide quality and timely service needed to help keep those effected safe.
Please fill out the form below or call us at (800) 448-2647 if you would like to order any social distancing products.